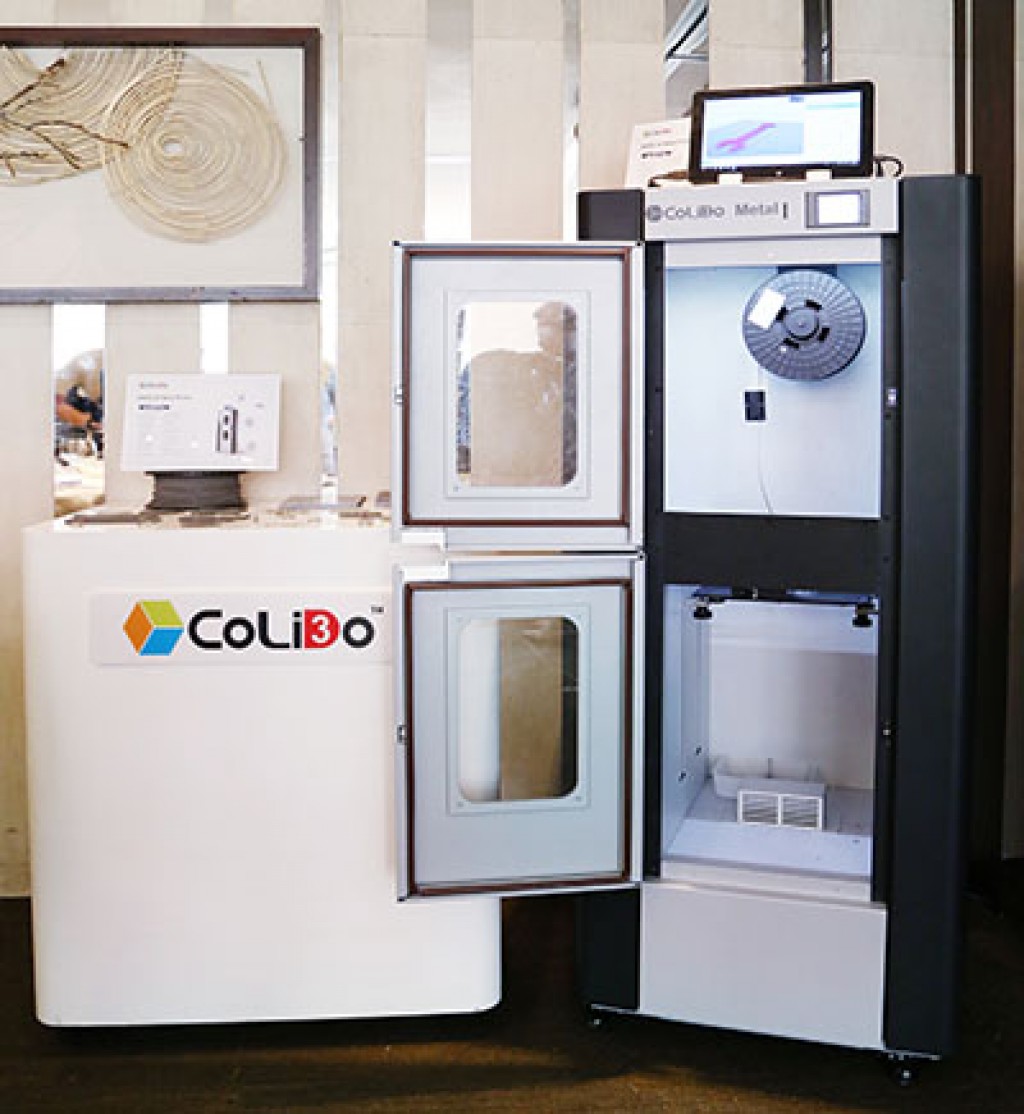 New Delhi, Jan 20, 2019 (Issuewire.com) – NexGen 3D Printers announced the launch of their revolutionary new COLIDO METAL 3D PRINTER which using AMSS METAL PRINTING TECHNOLOGY a newly patented invention from PRINT RITE that can reduce the cost of METAL Printing to only 20% of other major solutions available today.
More on StockNewDesk:

Launched globally in late 2018  the CoLiDo AMSS Metal 3D Printer applies Print-Rite independent-developed Additive Manufacturing Selective Sintering(AMSS) metal 3D printing technology, which has a similar procedure to FDM printing. It allows more designers and corporate R&D and Product development teams to use metal printing in their business to improve productivity at only 20%  of the entry cost of other competitive technologies.
The CoLiDo METAL  AMSS process works by using a special METAL filament that contains around 90% of the required metal particles and is printed just as regular FDM (Fused Deposition Modeling) the popular additive manufacturing process that belongs to the material extrusion family. This METAL filament is printed on a specially designed desktop COLIDO METAL 3D printer in the usual manner. The green part thats produced is removed from the printer and fired in a furnace. Firing or Debinding can take, in the example of stainless steel, 24 hours at 1600C to complete. The non-metallic portions of the print are burned out at these temperatures. The metallic particles fuse together to form a dense, solid metallic object and the process is completed by regular sintering. The completed part shrinks approximately 19% of its green state. The printer while printing compensates for this shrinkage by enlarging the file while printing the green  part. Obviously, this process will be spectacularly less expensive than conventional powder-energy systems. Nevertheless, this process could enable metal printing at much lower prices, making the capability available to many more people and companies.
The Colido Metal printer offers extreme ease of use and is intuitive for existing 3D printer users for large build size 200 x 200x 300 mm ( 170 mm x 170 mm x 255 mm after sintering which is the final process which is large enough to print most of the metal end products in the market. The Colido Metal can print STAINLESS 316L and TOOL STEEL currently and Titanium and Aluminium will soon be added and the metals product range further expanded in 2019.
With this launch of COLIDO METAL 3D Printer NEX GEN  hopes to be able to meet the requirement of many many more companies needing METAL printing but unable to afford it at current cost levels. NEX-GEN will then establish a long term partnership with these customers to meet more and more users need and is focusing on the Machine Tools industry who can make the best use of this technologies and have been seeking these capabilities. Now by combining these new capabilities and MIM (METAL INJUNCTION MOULDING), it will be possible for manufacturers  to produce required high quality finished metal parts quickly conveniently and low costs
ABOUT PRINT RITE
More on StockNewDesk:
Print-Rite a Hong Kong-based company with vast facilities in China has over 35-years R&D experience and owns the largest number of patents granted in the aftermarket consumable industry and has wide recognition in the market with global presence over 120 countries. Print-Rite envisions the development of 3D printing technology and providing accessibility to a 3D printer to enable everyone to enjoy the beauty, creativity and utility of 3D printing by having their  R&D team to continually develop innovative, cost-effective industrial and desktop 3D printers, as well as the supplies for professional, commercial and home use.
CoLiDo is inextricably linked to and has leveraged  Print-Rites proven manufacturing capabilities, extensive engineering experience and the core values to create new 3D PRINTER products including the COLIDO 3D AMSS METAL PRINTERS  to satisfy untapped, potential customers who desire for user-friendly, well-performed, yet cost-effective, 3D printers and filaments, with varied choices and high compatibility.
Customer satisfaction is a key driver for Print Rites continuous improvements and innovations and so they never compromise on quality in their endeavour to deliver a comprehensive experience of 3D Printers to professional users, experienced industry  users and even beginners, hobbyists  and distributors and business partners that foster innovations and creativity for wider applications in 3D PRINTING .
CoLiDo dream it. FEEL IT.
ABOUT NEX GEN 3D PRINTERS
NexGen 3D Printers supports companies and designers by providing them with the most innovative, low-cost printing solutions and a solid platform of 3D printers and 3D services across India according to the client requirements for using 3D products. NexGen 3D Printers also offer training courses and workshops on 3D printing to train individuals to meet manpower requirements in the future in the industry.
NEXT GEN 3D PRINTERS MANAGING DIRECTOR MR. ROSU REDDY  SAID "OUR AIM IS TO PROVIDE HIGH QUALITY AND COST EFFECTIVE PRODUCTS AND SERVICES WITH A MAJOR FOCUS ON CUSTOMER SATISFACTION AND WHILE MEETING ALL THEIR REQUIREMENTS"
Quality seeks more than anything put together and NexGen are very particular about it. The excellent and competent quality control processes at the company ensure that their products have consistency with high quality, durability, strength and reliability that exceeds the quality delivered by others.
Their 3D products can be repeated and reproduced with the same quality using the printers, materials and operators which was earlier used to produce the product. Nex Gen 3D Printers promises that in ALL their 3D PRODUCTS  the designing, manufacturing and the assembling of the 3D product  by use of their  qualitative technology PPAP (Production Part Approval Process) the company designs and keeps a track of the design developments, performance reviews, dimensional analysis and has the technologies that records which are the most appropriate for the process.
NexGen 3D Printers has always kept customers their priority and when that is the case, the team identifies their needs individually and predict the product specifications with good efficiency scale and product scope. NexGen 3D Printers 360-degree quality assurance service comes with Quality Guarantee, Individual focus on product, Cost-effective, Risk assessment and Delivers products which have greater operational quality.
At NexGen3D Printers makes sure that their quality always speaks more than mere words.
FOR MORE INFORMATION PLEASE CONTACT:
Mr Rosu Reddy
NexGen 3D Printers Pvt.Ltd.
#24/A, West canal bank Road,
(Opp) Kotturpuram Railway station,
Kottur, Chennai-600085.
Telephone: 044-35351055
[email protected]
URL: www.nexgen3d.com
Or
Union Technology International (MCO) Co., Ltd (UTEC)
A Print-Rite Group Company
Sanjeev Mahajan
Country Manager – the Middle East and Indian Sub-continent
B-1/79, Janakpuri, New Delhi 110058. INDIA.
Mobile: 0091 98112 99377
E-mail: [email protected]
URL: www.colido.com
are trademarks of respective Print-Rite companies
Disclaimer: All trademarks and brand names if mentioned are the properties of their respective owners and are used only for descriptive purposes
Media Contact
PRIME SUCCESS
00919811299377
b1/79 Janakpuri New Delhi 110058
http://www.prime-success.com.mo
Source :PRINT RITE
This article was originally published by IssueWire. Read the original article here.
Latest on StockNewDesk: