Toronto, May 14, 2019 (Issuewire.com) – FATE LUXURY GOODS® today announced the release of their first collection of men's premium salvaged leather suspenders made by Italian leather artisan Marco Vaccari. The brand has recently launched their first KICKSTARTER campaign and is one of the only artisan brands on the platform to offer live booths to allow potential backers to view the collection in-person before supporting the project. Toronto and New York City have been announced as the first locations for their live booths followed by two locations in Europe.
More on StockNewDesk:

As part of their support strategy for the Kickstarter Campaign, FATE LUXURY GOODS® has announced two live booths which are temporary pop-up locations that will allow backers to view the complete sample collection prior to backing the project online.
Each live booth will feature the brand's inaugural collection of men's suspenders and bracelets created in 5 limited edition premium leathers. The live booth is also an opportunity to speak directly with master Italian leather artisan Marco Vaccari who will be personally sewing suspender buttons in a move to promote the use of traditional suspenders (6 buttons) as opposed to those with inexpensive metal clips.
The two live booth locations announced for North America are Toronto followed by New York with two more live booths in the works for European backers.
"Live Booths are offered by cutting edge artisan brands that are reinventing themselves and their crafts through the support of Kickstarter Campaigns. It's an opportunity to offer Kickstarter backers the chance to see what they'll be funding ahead of time and actually hold the sample product in their hands months before they receive it. We're so sure that once a client sees, touches and experiences the quality of our suspenders first hand they'll be eager to fund us, since our collection truly is a luxury product at an accessible price.
More on StockNewDesk:
We've put years of research and design into the development of our styles and we look for any occasion to get feedback and talk directly to our future customers. Toronto will play host to our first live booth at 1605 Queen Street West via the Toronto Designers Market. FATE LUXURY GOODS is a newly launched Canadian brand so it only makes sense that we offer a pop-up location in Toronto, plus we know that the Toronto audience is very supportive of well made, sustainable artisan goods" said brand founder Angela Nardiello, a Toronto native who recently moved back to Canada after 13 years in Italy.
"FATE LUXURY GOODS has been invited to participate in New York's most prestigious Denim Event the Denim Days Festival from June 8th to 9th. This will be our second North American live booth for just the two days of the festival. The Denim Days Festival in New York is where "denim heads" from all over the world go to discover new and established premium denim brands that are making small batch collections with Japanese and Selvedge denim. It is a very niche market of denim connoisseurs and we're really happy to be there. We also have something special planned for Florence,Italy during the Men's Fashion Week in June but more details will be announced at a later date" Continued Nardiello
The FATE LUXURY GOODS® inaugural collection features men's leather suspenders and leather bracelets that are 100% made in Italy from sustainable leather sources such as deadstock leather that is leftover from big industrial productions. The quality of each item reflects the know-how that is put into each piece by the master Italian artisans.  The collection is limited to 45 suspenders in each type of leather which are really small batches.  
"A lot of this leather is either burned and destroyed or will sit in a warehouse for decades until it is no longer useable and we see that as a huge waste of a premium material that should be transformed into a beautiful object and enjoyed.
The problem is, it takes a lot of know-how to work with salvaged leather because you need to have the experience to work around imperfections and bring the leather back to its glory. This is where me and my parents come into play. I am a third generation leather belt artisan and together with my parents and grandparents we've been making small leather goods for big luxury labels for three generations and we have the know-how and skill to work around these imperfections and give new life to leather that would otherwise be destroyed. Up until now, we have been the hands behind some of the world's most expensive luxury labels, with our items retailing for thousands of dollars because they have a brand name associated to them.  For the first time, we are working with FATE LUXURY GOODS and Kickstarter to offer the same quality of product at a fraction of the price. 
It has been a great experience working on the FATE LUXURY GOODS collection because I've been able to use leather from my archive for these limited edition small batch collections of suspenders and bracelets.
For example, two of the suspender styles I created for FATE LUXURY GOODS feature hammered calf leather that was Prada's historic leather, which is no longer being made by the tannery who created it. What I have is some of the last stock that remains of this leather in the entire World and it has been sitting in a warehouse in Italy for over thirty years! When I found it, I just knew that there were still luxury objects to be created and appreciated by a man who knows what separates a mass consumer item from a premium one." commented Mr. Vaccari who is responsible for the entire production.
The FATE LUXURY GOODS collection of men's salvaged premium leather suspenders and leather bracelets can be found on KICKSTARTER and via their website which links to the campaign www.fateluxurygoods.com.
Details of the FATE LUXURY GOODS Kickstarter Campaign LIVE BOOTH are as follows:
TORONTO
FATE LUXURY GOODS via:
TORONTO DESIGNERS MARKET Booth N°18
1605 Queen Street West, Toronto M6R 1A9
May 13, 2019 – September 2019
Opening Hours:
Monday: Closed
Tuesday: Closed
Wednesday: 11am – 6pm
Thursday: 11am – 6pm
Friday: 11am – 6pm
Saturday: 11am – 6pm
Sunday: 11am – 6pm
NEW YORK
FATE LUXURY GOODS via:
DENIM DAYS FESTIVAL
Metropolitan Pavilion 125 West 18th Street, New York (NY)
Saturday June 8th 2019 – Sunday June 9th, 2019
Hours:
Saturday: 11am – 6pm
Sunday: 11am – 6pm
For more information on FATE LUXURY GOODS including Kickstarter Campaign video presentation and reward levels please visit the campaign at https://www.kickstarter.com/projects/fateluxurygoods/salvaged-leather-suspenders-crafted-by-italian-art?ref=nav_search&result=project&term=fate%20luxury%20goods
For details about the brand visit their website at www.fateluxurygoods.com or follow them on Instagram @fateluxurygoods.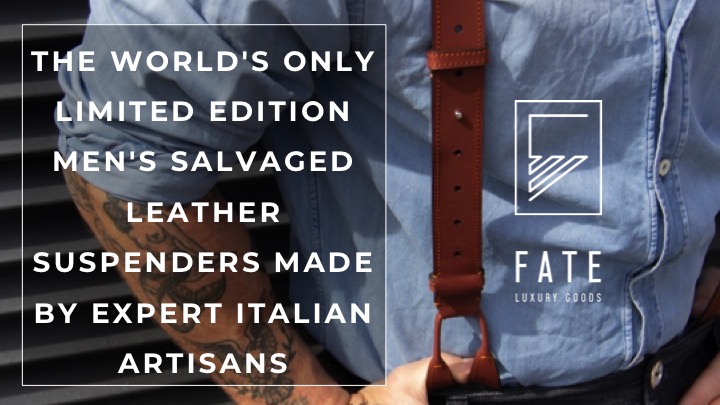 Media Contact
Angela Nardiello FATE LUXURY GOODS
1 (437) 888 1542
Toronto, Ontario Canada
http://www.fateluxurygoods.com
Source :FATE LUXURY GOODS
This article was originally published by IssueWire. Read the original article here.
Latest on StockNewDesk: